/// PROGRESS REPORT ///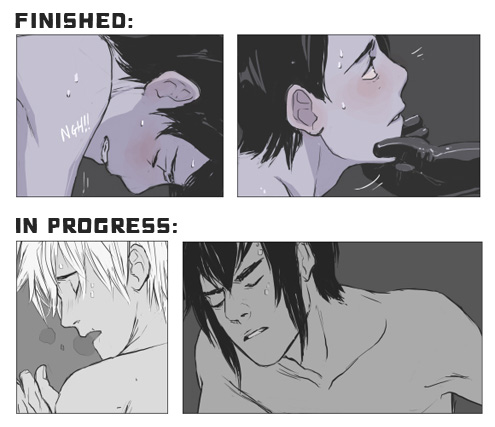 Taken from the site news:
Hello!
Everyone who is waiting for the print release of Chapter 2, here is a progress report! The Deimos mini-smut-comic is finished, which is great, and I'm now in the middle of working on the Cain and Abel mini-smut-comic… which I have been waiting FOREVER to do! I'm so glad to get my black claws into this. So hold tight, my sweethearts, these goodies are on their way to you! I'll make more announcements as things develop!
Thank you so much for your patience!

///

STARFIGHTER STAMPS

///










..And one for Machine!
STARFIGHTERCOMIC.COM
+18 MATURE CONTENT /// STARFIGHTER COMIC ONLINE
CHAPTER:01 COMIC, T-SHIRTS, KEYCHAINS, TOTEBAGS, AND PRINTS AVAILABLE @ THE ONLINE SHOP ///
shop.starfightercomic.com/
/// FAQ ///
hamletmachine.deviantart.com/j…
/// FANCLUBS ///

STARFIGHTER-FANCLUB

HamletMachineMinions

Deimos-Lovers
/// STARFIGHTER LJ NAVIGATED FIGHT ///
community.livejournal.com/navi…
/// TUMBLR (NSFW) ///
hamletmachine.tumblr.com/
/// Hamlet_Machine TWITTER ///
twitter.com/Hamlet_Machine
/// Starfighter FACEBOOK ///
www.facebook.com/pages/Starfig…