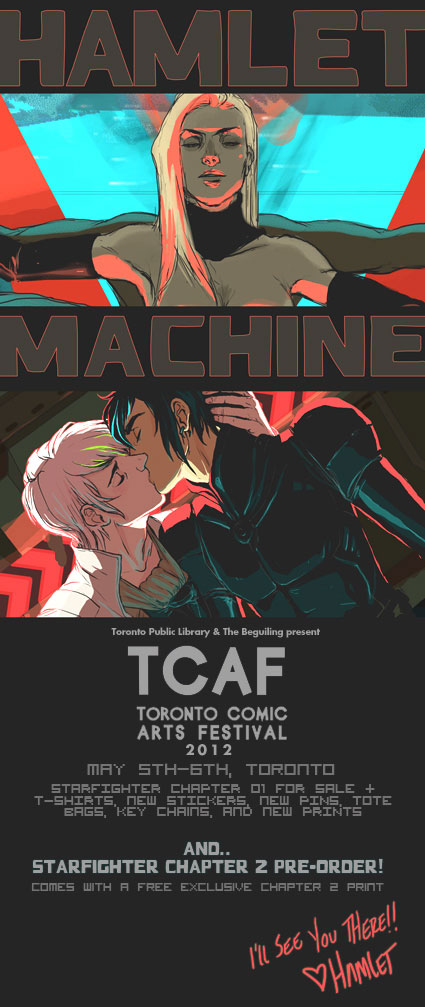 Here's the TCAF site where you can find out details:
torontocomics.com/
If you're attending, stop by and say hello!
(I don't have a table number yet but I'll be sure to announce this as soon as I know! If not, I'm sure you can find where my table is in the directory!)
EDIT: OH MAN! I almost forgot— At last Yaoi-con, there was a sweet person who had lost her voice from a cold (ah, I'm not sure if I got your name) and had printed out some TCAF info so I could attend— SWEETHEART, IF YOU READ THIS, THANK YOU! I hope to see you there!)
EDIT 2: I'LL BE AT TABLE 236 ON THE SECOND FLOOR!
///

STARFIGHTER STAMPS

///










..And one for Machine!
STARFIGHTERCOMIC.COM
+18 MATURE CONTENT /// STARFIGHTER COMIC ONLINE
CHAPTER:01 COMIC, T-SHIRTS, KEYCHAINS, TOTEBAGS, AND PRINTS AVAILABLE @ THE ONLINE SHOP ///
shop.starfightercomic.com/
/// FAQ ///
hamletmachine.deviantart.com/j…
/// FANCLUBS ///

#
STARFIGHTER-FANCLUB

#
HamletMachineMinions

#
Deimos-Lovers
/// STARFIGHTER LJ NAVIGATED FIGHT ///
community.livejournal.com/navi…
/// TUMBLR (NSFW) ///
hamletmachine.tumblr.com/
/// Hamlet_Machine TWITTER ///
twitter.com/Hamlet_Machine
/// Starfighter FACEBOOK ///
www.facebook.com/pages/Starfig…